Trial Attorney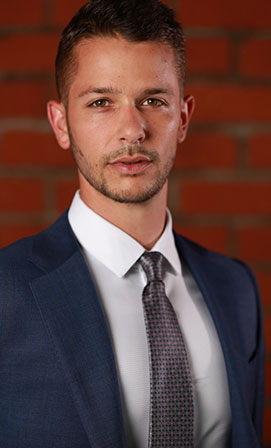 Daniel A. Torem is a Trial Attorney at Torem & Associates, protecting the injured and wronged in personal injury and catastrophic personal injury cases. Daniel joined the firm in February 2021, coming with an extensive personal injury, litigation, and trial background with one of the top trial firms in the nation, where he began as a law clerk.
Prior to joining the firm, and within a year of being licensed as an attorney, Daniel first-chaired a disputed liability trial. He went up against a seasoned Defense trial attorney and was able to obtain a verdict and justice for his client when the insurance company refused to accept liability and compensate his injured client. Daniel also obtained a judgment for the policy limits as a first chair in an arbitration proceeding where his client's own insurance company was offering $0.00 alleging his client was fully compensated. Daniel's track record shows he will never give up and will stand up to the big insurance companies, no matter the value of the case. The first case he settled as an attorney was a limited jurisdiction matter where he obtained the full policy of $25,000. Daniel fights for the underdog and knows what it takes to bring justice for his clients. His ability to convey how his client's life has changed is something that cannot be taught. He cares about the human life. His clients are his family.
During his first two years as an attorney, Daniel settled over $6 million for his clients. He obtained countless policy limit settlements and opened policies. Daniel has handled cases from pre-litigation all the way to trial. He will not let the insurance company invade his client's right to privacy. In his first 2 years as an attorney, he has drafted, opposed, and argued over 200 motions in litigation.
Daniel is a Los Angeles native. He attended Loyola Law School and the University of California, Los Angeles for his undergraduate studies. Daniel is currently an active member of the Consumer Attorneys Association of Los Angeles (CAALA). When he is not sticking up to and fighting the big insurance companies, Daniel can be found spending time with his fiancée and three dogs or watching the Los Angeles Clippers and Tampa Bay Buccaneers.
IF YOU NEED A PERSONAL INJURY LAWYER IN FRESNO, STOCKTON, BAKERSFIELD, LOS ANGELES, SAN FRANCISCO, SANTA ROSA, OR SAN JOSE, CONTACT TOREM & ASSOCIATES AT (888) 500-5000. WE ARE AVAILABLE 24/7 TO ASSIST YOU.
Education
Loyola Law School
University of California, Los Angeles
Professional Memberships
Consumer Attorneys Association of Los Angeles (CAALA)